Michele Thames, Executive Director
Michele Thames is the Executive Director of SafeSpot Children's Advocacy Center. Michele holds a Master's Degree in Education from Cambridge College. She was previously the Supervisor of the Forensic Interview Program at the Children's Hospital of The King's Daughters Child Abuse Program in Norfolk, Virginia. Michele is a trained Forensic Interviewer that has conducted over 3,000 forensic interviews in a multidisciplinary team setting for local, state, federal and military agencies. Michele is a board member of the Children's Advocacy Centers of Virginia and faculty for ChildFirst Virginia.
Maria Bonilla, Forensic Interview Specialist
Maria Bonilla, LCSW, is a licensed clinical social worker in the state of Virginia.  She graduated with a Bachelor's degree in Psychology from the University of Delaware and obtained her Masters of Social Work from the University of Maryland at Baltimore.  Maria has been a forensic interviewer since 2010 and has conducted over 2,000 interviews with both children and vulnerable adults for local, state and federal agencies.  As a native Spanish-speaker, Maria also holds a certificate in Medical Interpreting and has conducted numerous forensic interviews in Spanish.
Lindsey Kerber, Clinical Director
Lindsey Kerber is an LCSW. She graduated with a Bachelor's degree in Psychology from the University of Michigan and also holds a Master of Science in Social Work degree from Columbia University. She is trained in TF-CBT and has 4 years of experience conducting acute mental health crisis assessments in the community and hospital setting.
Krystal Darnell, Child and Family Therapist
Krystal Darnell is a Licensed Clinical Social Worker in the state of VA. Krystal moved to Northern Virginia from Southwest Virginia in 2014. Krystal graduated from Radford University in 2014 with a Bachelor's degree in Social Work and continued her education with an Advanced Standing Program at George Mason University where she graduated with a Masters of Clinical Social Work degree in 2015. She is experienced and passionate as a crisis clinician with an established history of working in the Mental Health field. She has worked with many diverse cultures and has a history of working with at-risk youths within the rural, suburban, and urban communities where she was able to use her skills and training in Crisis Intervention, Family Therapy, Cognitive Behavioral Therapy, and Motivational Interviewing. She is currently in the process of becoming certified in Trauma-Focused Cognitive Behavioral Therapy (TF-CBT).
Angela Haslett, Family Advocate
Angela Haslett is the Family Advocate at SafeSpot. Angela holds a Bachelor's in Social Work degree from Eastern University. She has over ten years of social work experience working with families and children. Angela is knowledgeable about the resources available to families as she has six years of working experience in Fairfax County. Angela worked for a non-profit as a case management to women and children who experienced homelessness as a result of domestic violence. Prior to that, her employment was in child welfare working with families and their children investigating allegations of physical abuse, sexual abuse, and neglect. Angela has also been trained in the APSAC Child Forensic Interview Clinic and has also conducted forensic interviews.
Alexsandra Mendez, Program Assistant
Alexsandra Mendez is a Program Assistant. Alexandra is a graduate of University of California Riverside with a Bachelor's degree in Political Science. In the past, Alexandra has worked in an office and nonprofits settings where she learned  the value of team work and communication. She previously completed a year of community service with an Americorp program, City Year D.C. During this experience, she worked to keep at- risk youth students on track towards academic success by providing students with academic intervention. In addition, she also built school based partnerships with local nonprofits  and assisted with community based events. Alexandra is passionate about helping others, while making an impact.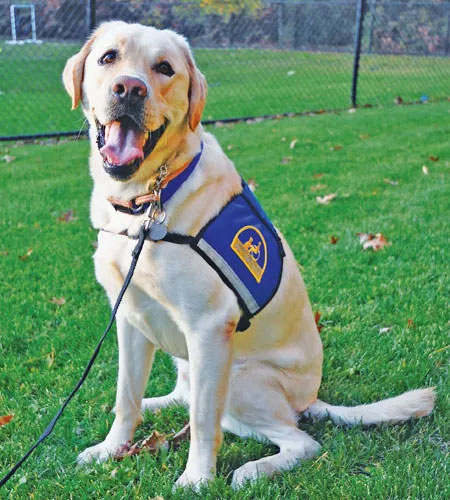 Pecos, Facility Dog
Pecos, the Facility Dog, joined SafeSpot in July 2015. He provides comfort and stress reduction to children, families, staff and multidisciplinary team members. Pecos accompanies children in forensic interviews, therapy sessions and in court proceedings. Pecos also has experience working with children in medical exams and attending multidisciplinary team meetings. Pecos was provided to SafeSpot by Canine Companions for Independence, a non-profit organization that enhances the lives of people by providing highly trained assistance dogs.